Let me try to remember the bits and pieces of the wedding day. Everything was surreal to me…but this is still long! Mwehehe! December 18, 2004 4:00 AM Someone was knocking on the door! At first I thought "WTF is housekeeping knocking at this time for?!" and then I saw my mom come out of the bedroom (I was sleeping at the sala of the suite as we couldn't fit into the bed, huhuhu poor bride to be mwehehe!) and I realized it must be my dad knocking. He was fetching my mom cause they were going to attend simbang gabi. My mom opened the door and I tried to get back to sleep. Then, my dad, suddenly brought a chair on my side of the sofa, like the way he used to when we were kids so we would not fall off the bed. I hid under the blanket so he wouldn't see the tears falling from my eyes. I was daddy's girl no more… today, I'm getting married. After they left, I tried my best to go back to my dreamless sleep, heck it was still dark outside! But unfortunately I wasn't able to. So I went out of bed, and wrote 2 letters. One for Jasper, telling him how excited I am about this day and another one for my parents, thanking them for taking very good care of me and assuring them that even if I was already married, I am and will always be their daughter. After that I checked all the items again and made sure everything was in place. At around 7AM, I woke up my sister so we could avail of the buffet breakfast that came in with my suite package. I was in no mood for eating, I was anxious, excited, happy all at the same time. My sister gobbled down enough for the two of us hehehe! So after that we went up to the room again and lounged around. I was even able to get a few minutes of sleep.;-) 9:45AM My mom and dad arrived from their simbang gabi and brought some items from the house that I requested: food for the suppliers, drinks, etc… My mom went like: "you're both not ready yet? It's almost 10. Go and get ready!" My sister went for the bathroom first and me and my mom made small chitchat. At 10AM, my Hair and Make Up supplier, Kuks Reyes, arrived with his (or should I say her?) staff. I was pleasantly surprised as the call time was 11AM. So I had them eat breakfast first and then they made up my mom's hair while I took a leisurely hot bath. Everything that happened from this point onward was so surreal to me. Time ran so fast! Ais Duque, one of our day coordinators from Bridester arrived as I was toweling off and she was followed by the delivery of the gorgeous flowers from Tropical Blooms. 11:30AM I was already being made up, as were some of my entourage. The video people were already there, so where the hell was our photographer?! Hay, this was the only supplier that gave me worries on my wedding day (read more on our supplier's rating soon). While being made up by Kuks, Ais told me that Raquel was already talking to Chito Vecina. I breathed a sigh of relief and thanked God for my ever efficient Bridesters, but kept looking at the clock anyway! By 12:30, Francis, the photographer, finally showed up! I was already done with my hair and make up then and was already waiting for our photo ops. He was so meticulous and OC in arranging the accessories and taking picture of each and every detail. Under my breath, I was muttering, "The pictures better be near perfect or else…" Ais, had me eat something while waiting for Francis to finish up. Finally around 1:45PM we started our photo ops. 2:30PM OMG! We're still not finished with the pictures, he was making me pose in so many different ways! Crap! I wasn't even dressed in my gown yet! I mean, I love having lots of pictures but hey, I was going to be LATE! Jasper was calling every now and then to check. Good thing, my day coordinators were really efficient as they handled all my incoming calls without bothering me. I was smiling but deep inside I was thinking we were definitely going to be late! Plus, my dad had to drive some of the entourage members, my brothers included, to church and was running back to our hotel room at around 2:50PM, I was all dressed up by then but sadly we couldn't have a family picture inside the hotel room as we were already late. More pictures outside the hotel. Finally at 3PM we were rolling. Good thing the hotel was near the church or else I would've killed that photographer on site! 3:10PM Arrived at the church. I saw Jasper outside with friends. The car was tinted so he couldn't see me but I saw the look of anticipation on his face. Friends greeted me and waved at me while I was inside the bridal car. Kuks, my ever efficient make up artist did some retouches. I was peeking at what was going on and friends were making me laugh pushing my nervousness aside. Then, I saw this man holding a huge camera and I shouted "Kuya Chito!!!!" It was such a surprise! Chito Vecina, our main photographer told us 3 days before our wedding that he wouldn't be there to cover our wedding and would send his back up Francis in his stead. This was what made me so disappointed. 'tis a long story (read it at our supplier's rating) but I was pleasantly surprised to see him there. (I found out after the wedding, that my day coordinator, Raquel, spoke with Chito. Didn't know what they talked about but hell, thank God for Bridester!) More pictures, inside the car, peeking outside the car, pictures with my little bride and then.. this was it… I was asked to go down the car and stand at the closed doors with my little bride in front of me. "Ikaw and tanglaw sa aking mundo…" went the first lines of my bridal march, the church doors slowly opening and my stomach was suddenly filled with thousands of butterflies. Finally, it was my turn to walk down that aisle. Faces were blurred. I smiled through it all, and tried to look for my groom. When we finally came face to face, I saw my groom, red eyed with tears flowing down his cheeks. Awww…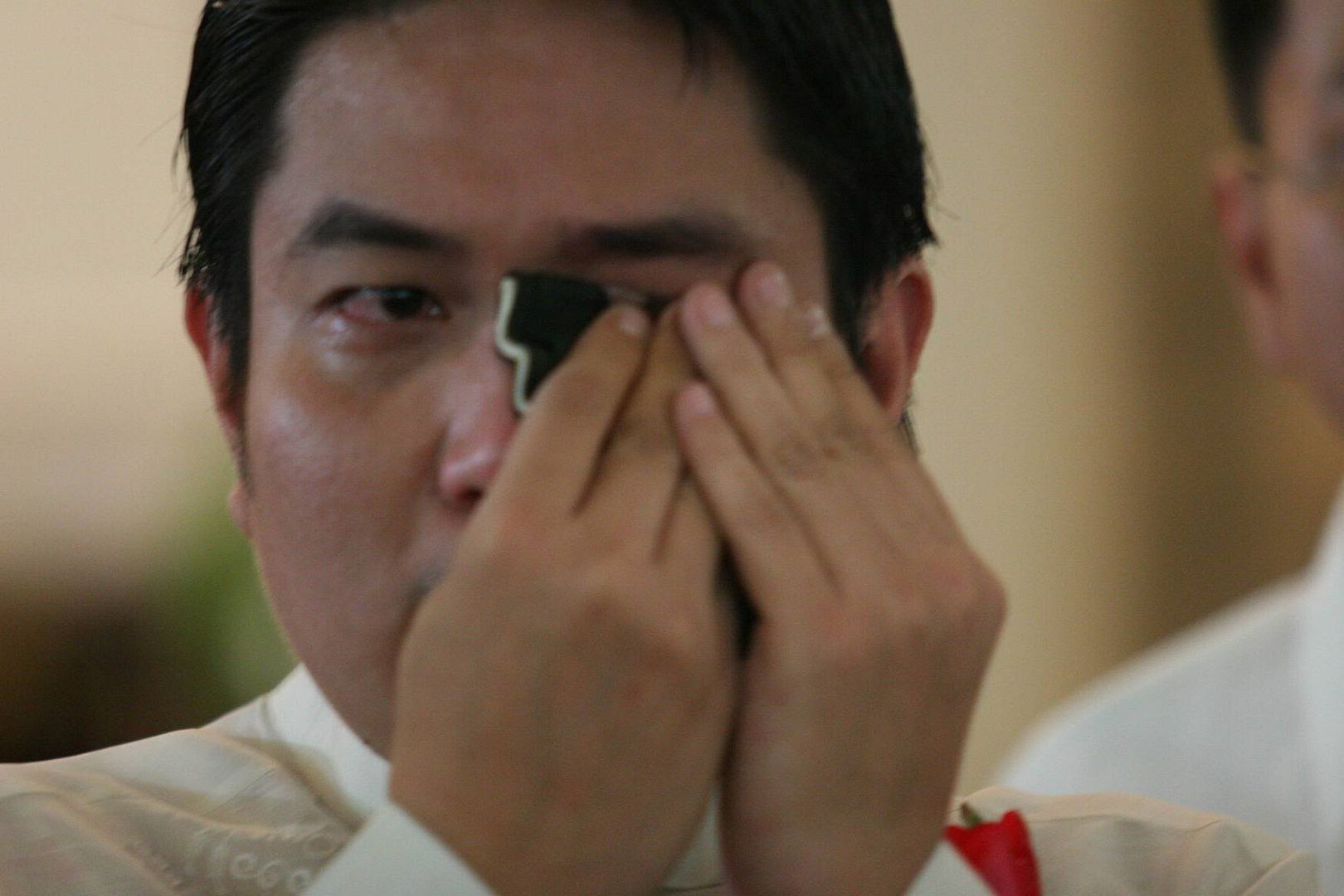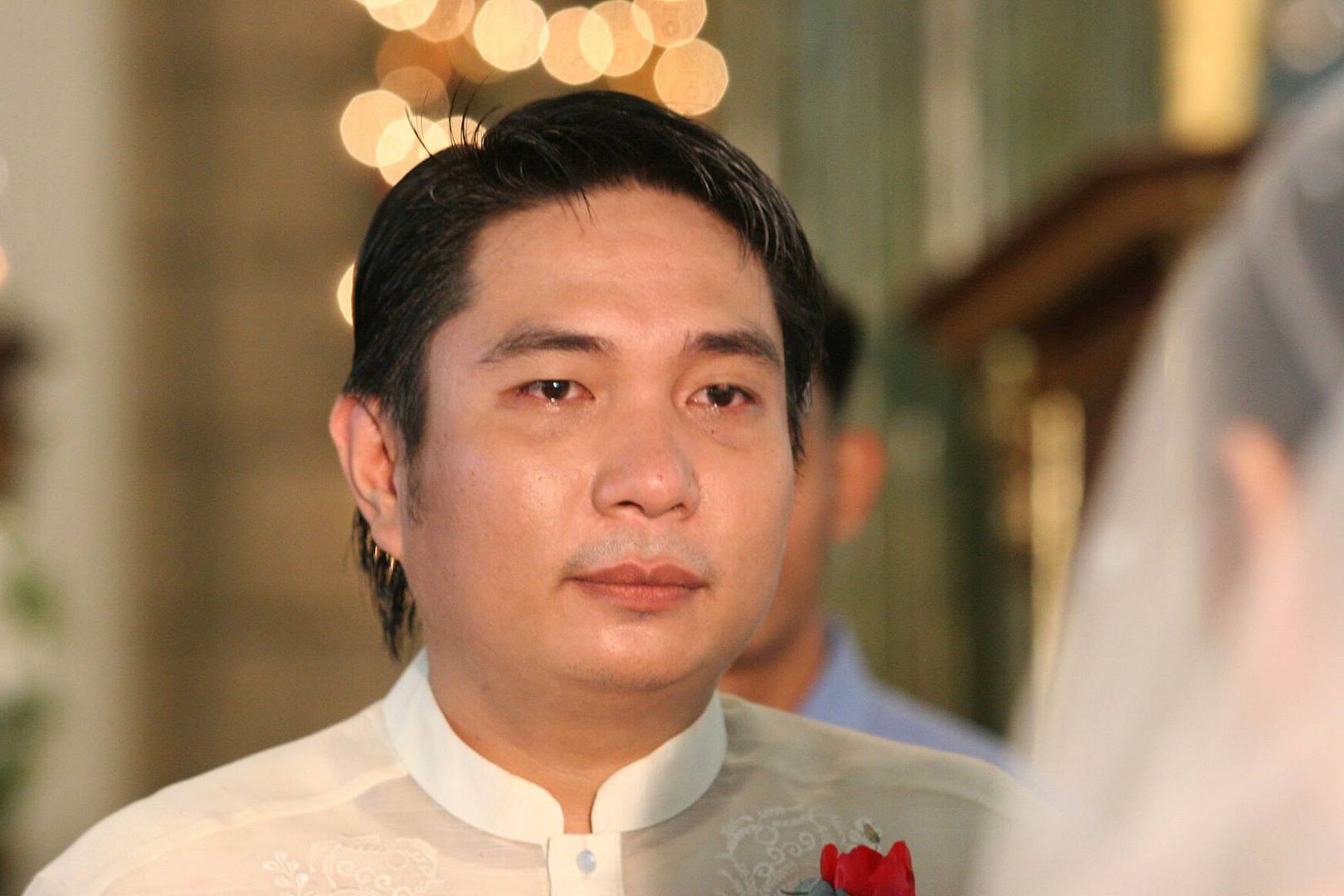 The ceremony was short but inspiring. Jasper and I kept stealing glances at each other.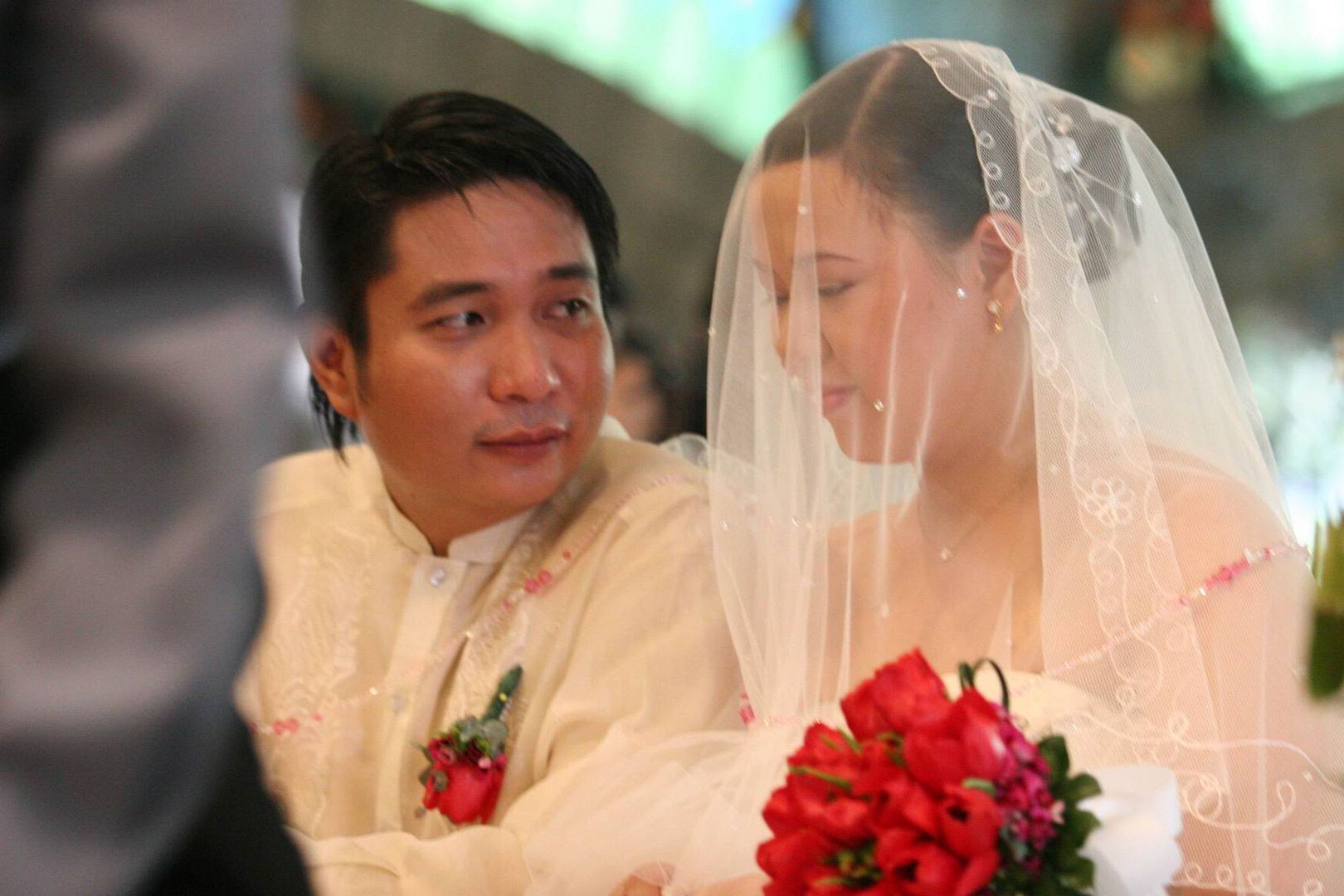 My groom, nervous as he is, answered the priest with "Yes, I do." Instead of "Yes, Father", and then sometime during the homily, I stole a glance at my groom and my eyes widened! I whispered: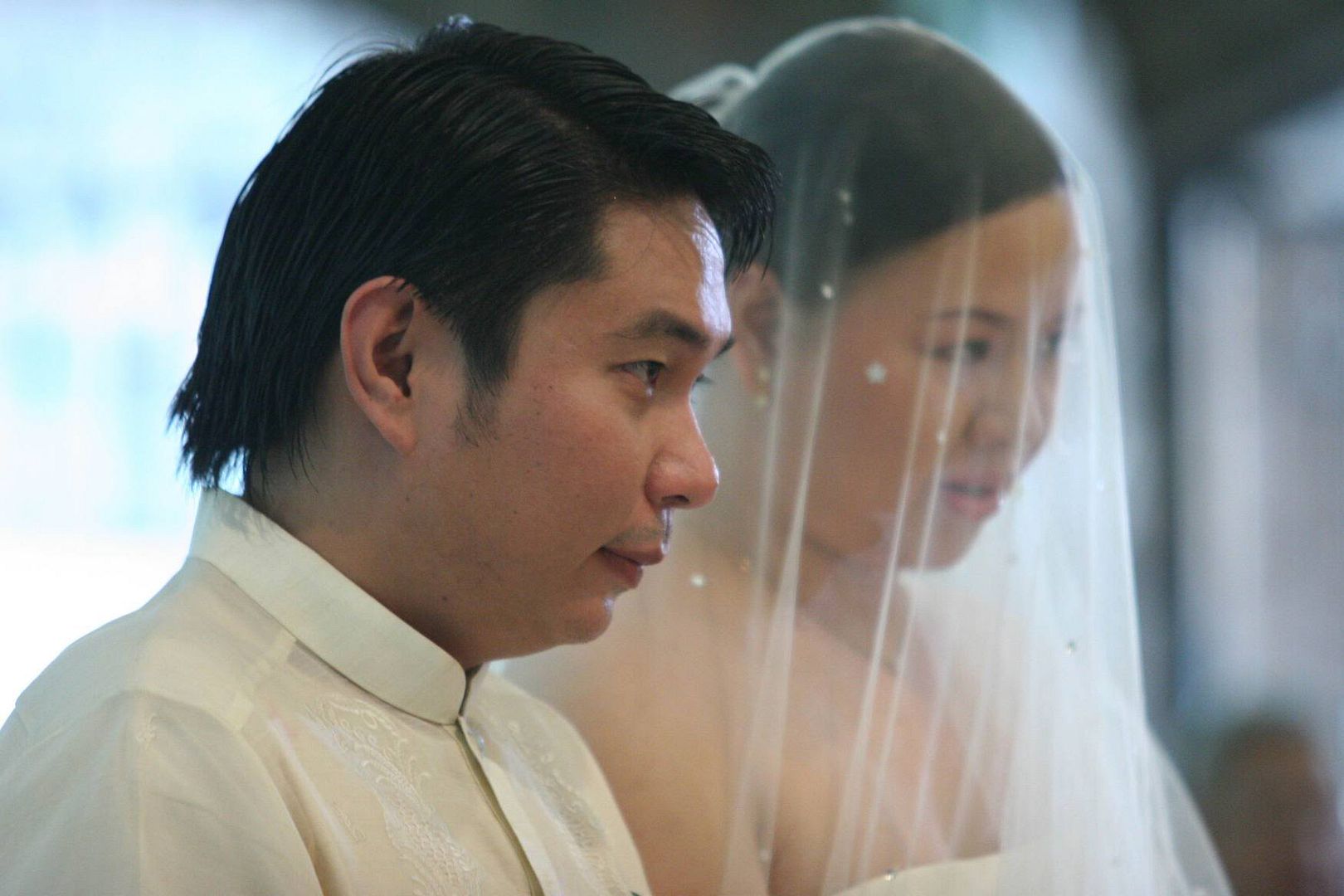 Me:

Hon, you didn't shave no?

Jasper:

Hon, sorry nakalimutan ko e. (then gives me a sheepish grin) We were smirking and whispering. Good thing the priest didn't notice! But even so my groom looked dashing! During the exchange of rings, the priest was confused as to which ring was the bride's! Haha! I think he asked my MOH which one was my ring, twice! More pictures, more posing, and then we were finally pronounced man and wife!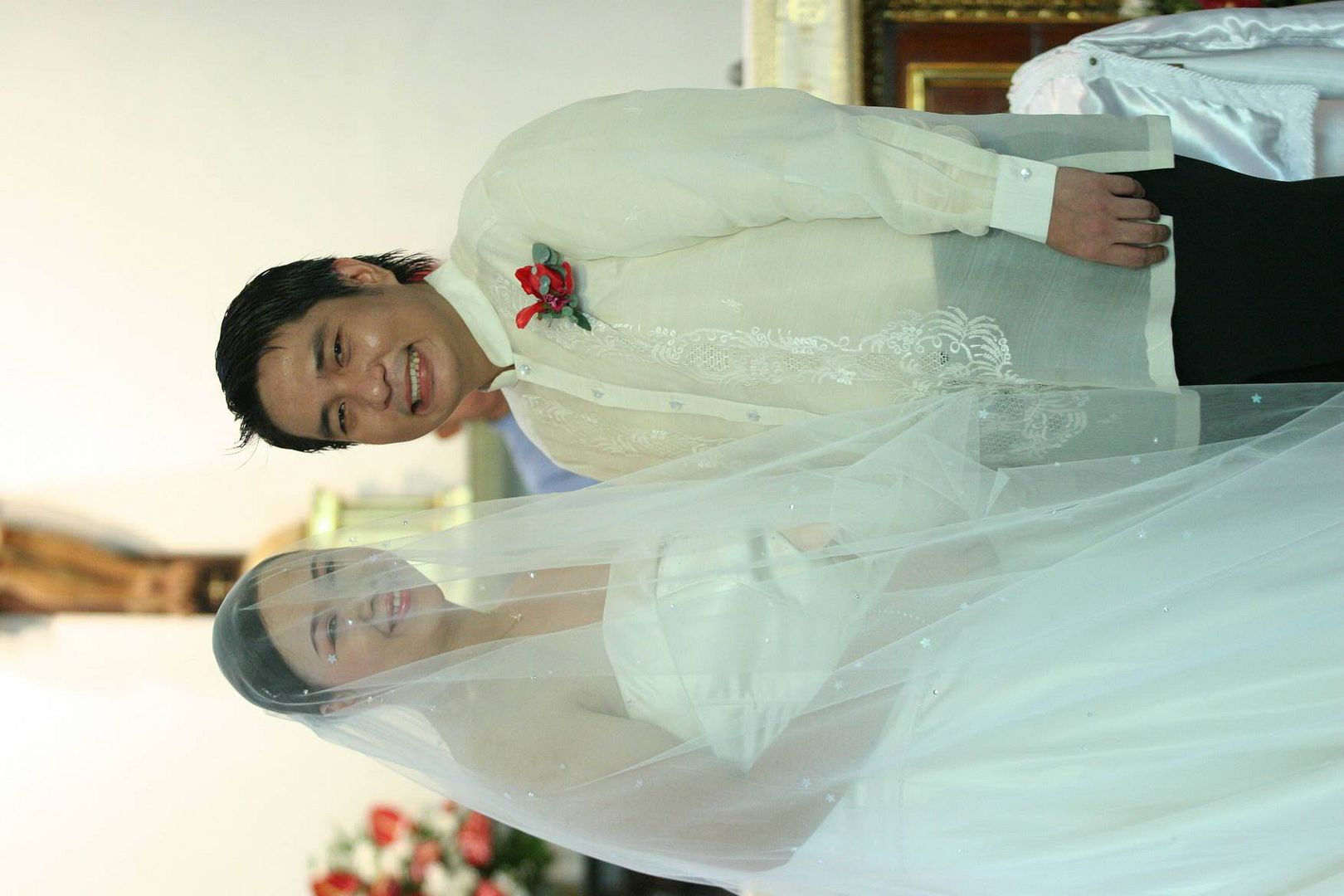 One memorable highlight of the event was when Jasper, upon hearing the priest say "You may now kiss the bride", checked his breath. Haha funny talaga itong husband ko! Then to everyone's surprise and delight, Jasper went under my veil and kissed me ever so deeply and we hugged so tight.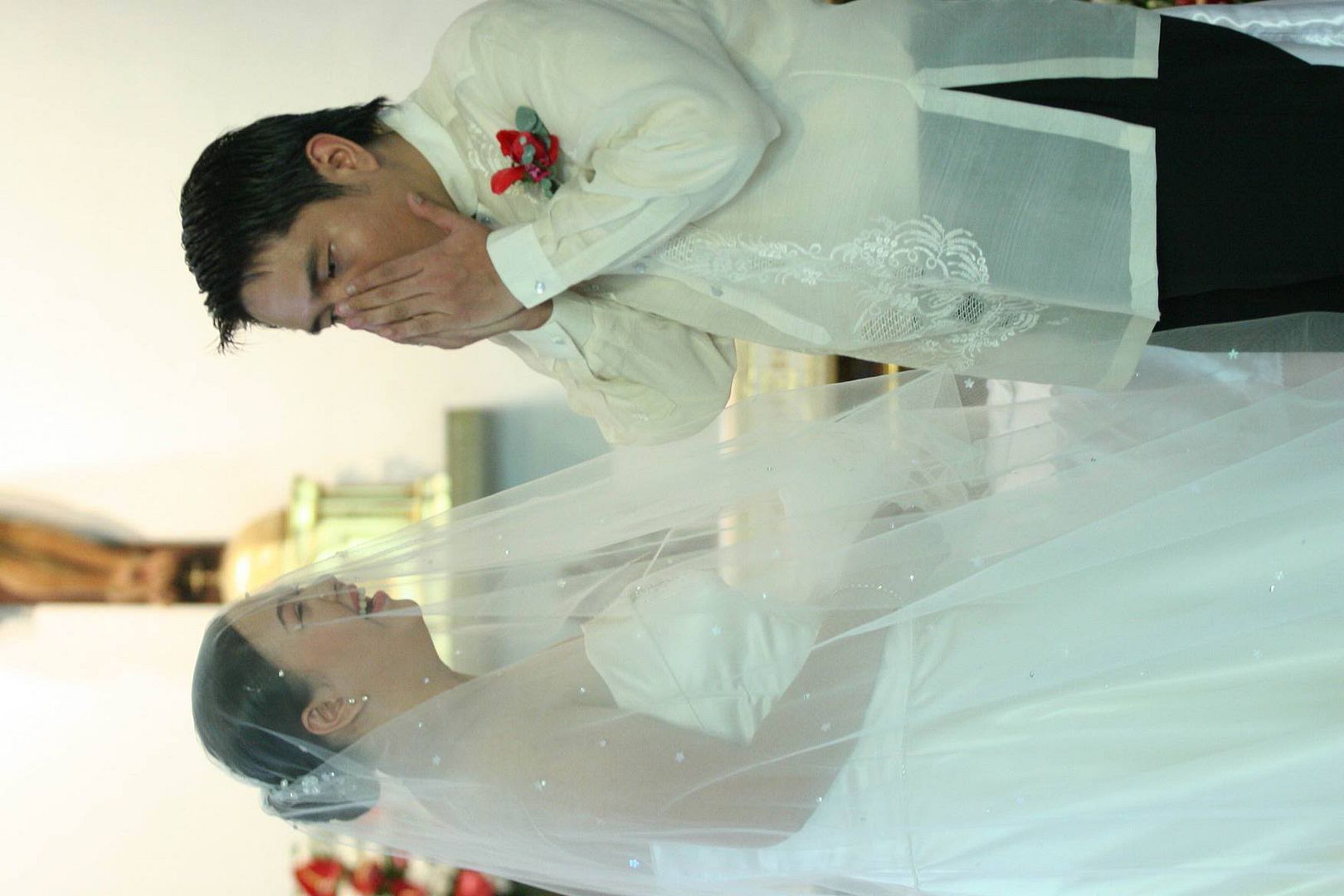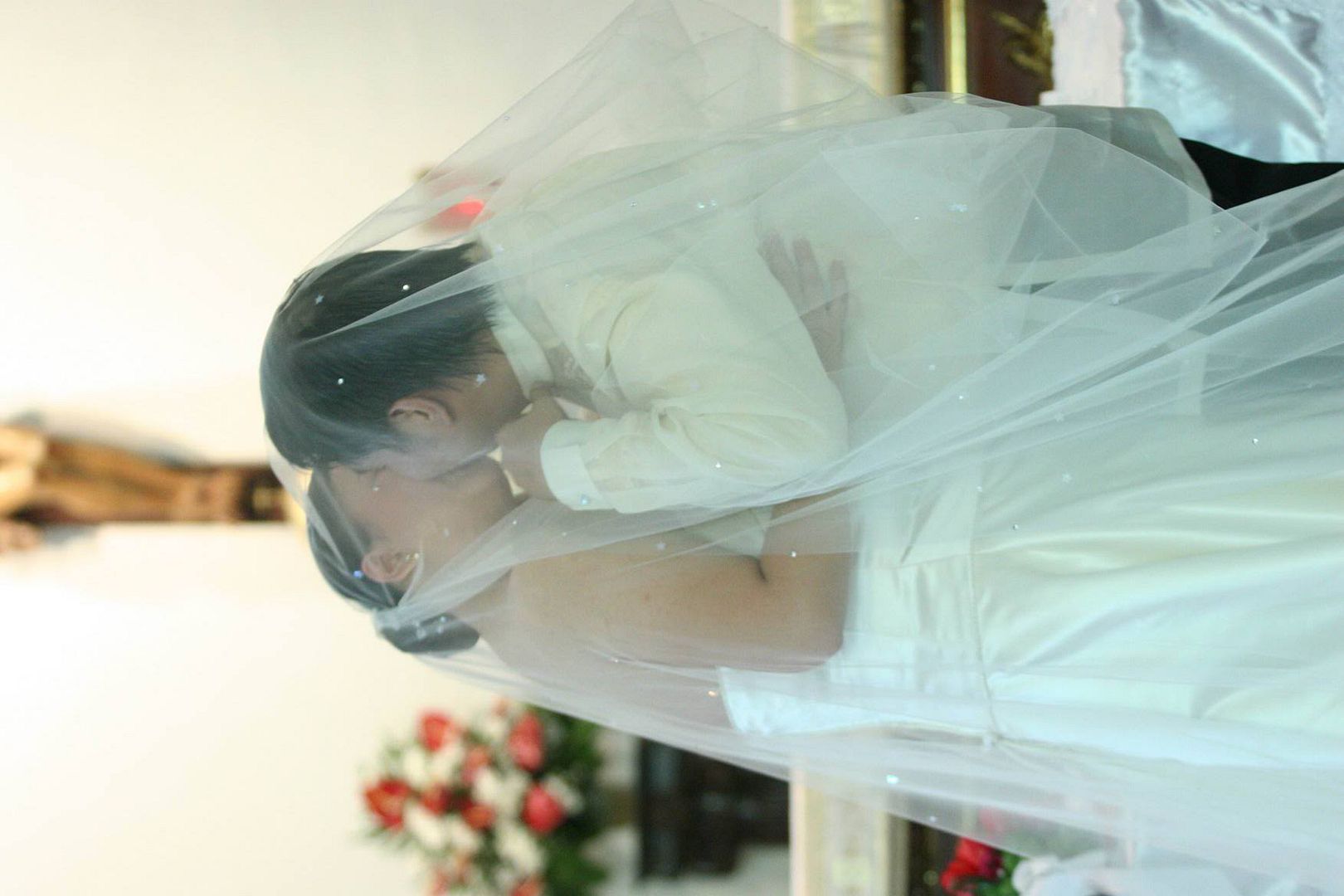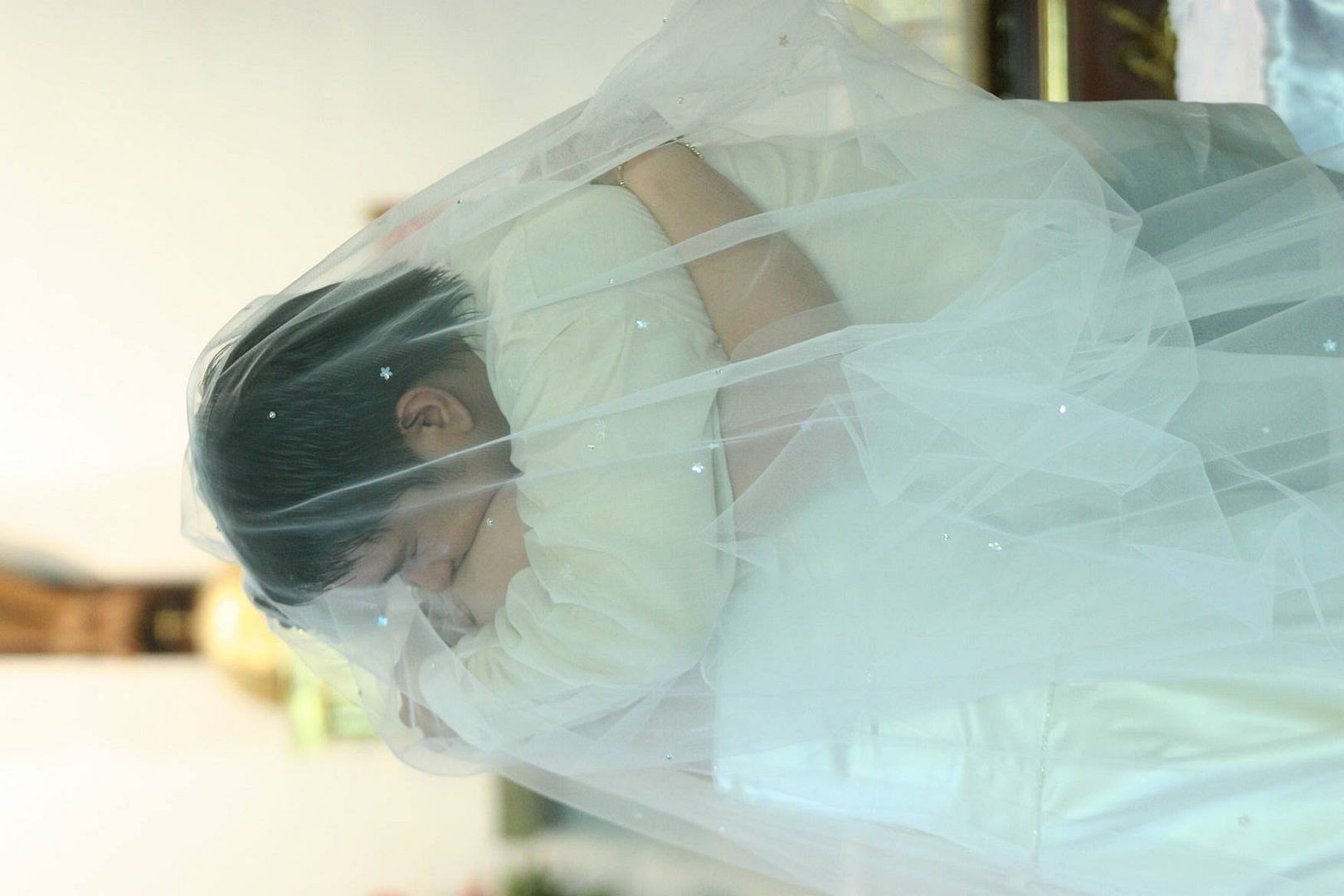 Pictures pictures with the entourage, family and friends. Again the ever meticulous Francis took such a long time with taking the pictures, I was ready to bite his head off! At last pictures done, off we walked for our recessional.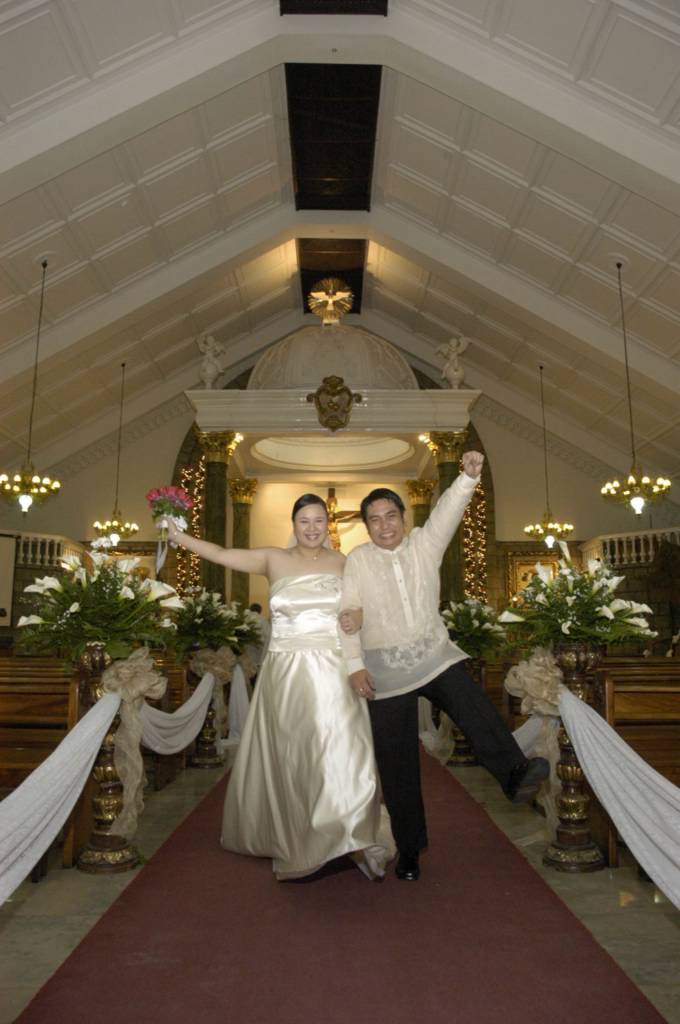 All the guests were outside waiting for us and as soon as we stepped outside the door, poppers popped and showered us with lots of confetti! Then the big popper was popped and the effect was so beautiful!
We then proceeded with our dove release and more posing and picture taking outside the church. Then, Chito informed us that he won't be able to make it to the reception and would delegate Francis to do the pictures there. Disappointing but then I thanked him all the same. On the way to the reception, Francis, made the bridal car stop at the middle of daily mirror street and took pictures of us with the sunset as backdrop.
Hmm.. he's beginning to redeem himself. Next... "The Reception"