December 18, 2004 The Reception 6:00PM
(I wanted to add more pictures here but Chito saved our pics on a dvd cd (sheesh! Not everyone has a dvd ready cd rom for crying out loud! =( ). We don't have a dvd ready cd-rom, we only borrowed one from our friend and I only copied as far as the pictures here. Will update the pics as soon as we transfer them to another cd, one that hopefully, our cd-rom would be able to read. ;-) )
We arrived at
Batis Asul
(which was only 5 minutes away from the church) at the same time that the guests did. I was so happy seeing all our DIY luminaries outside the venue.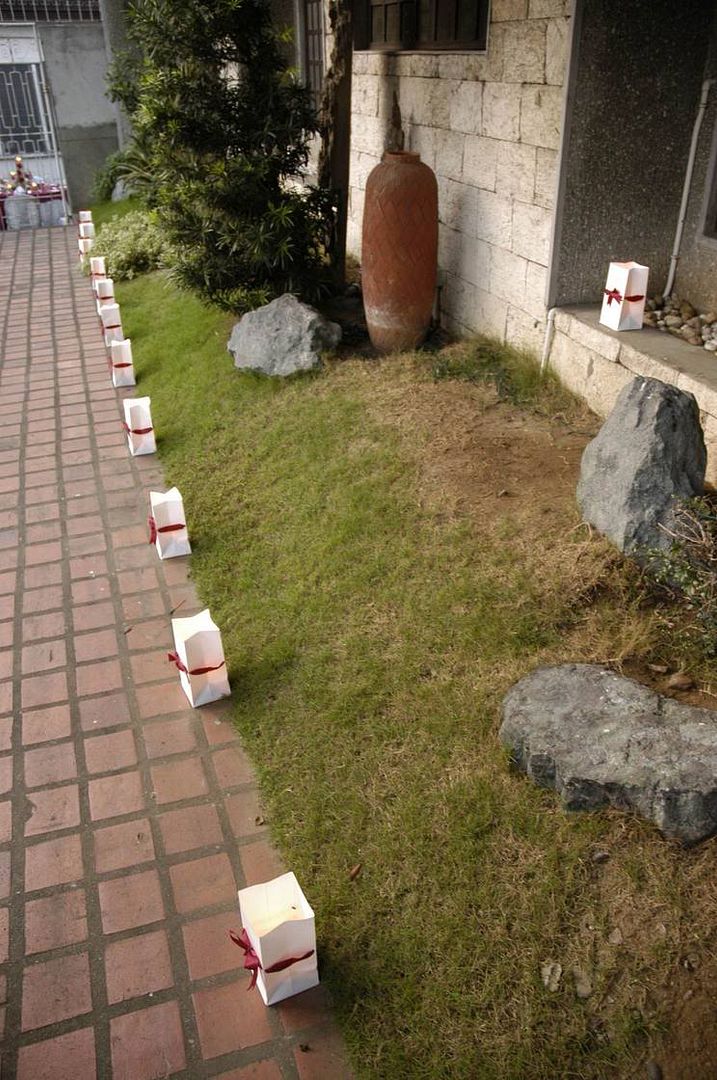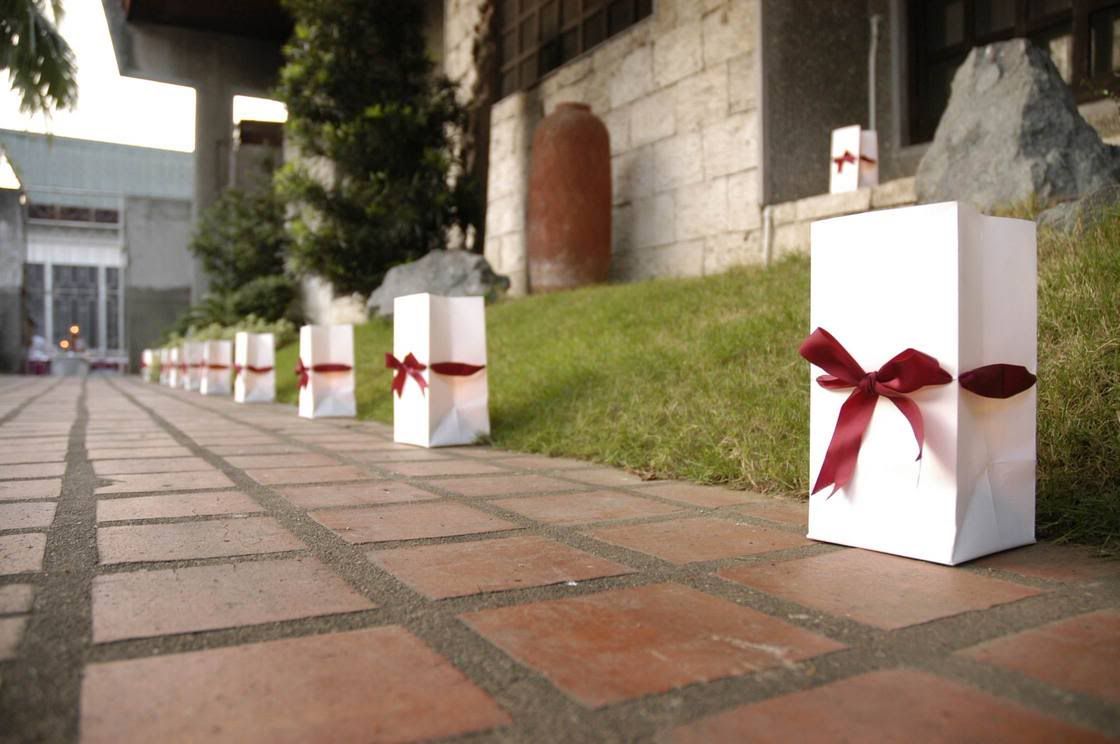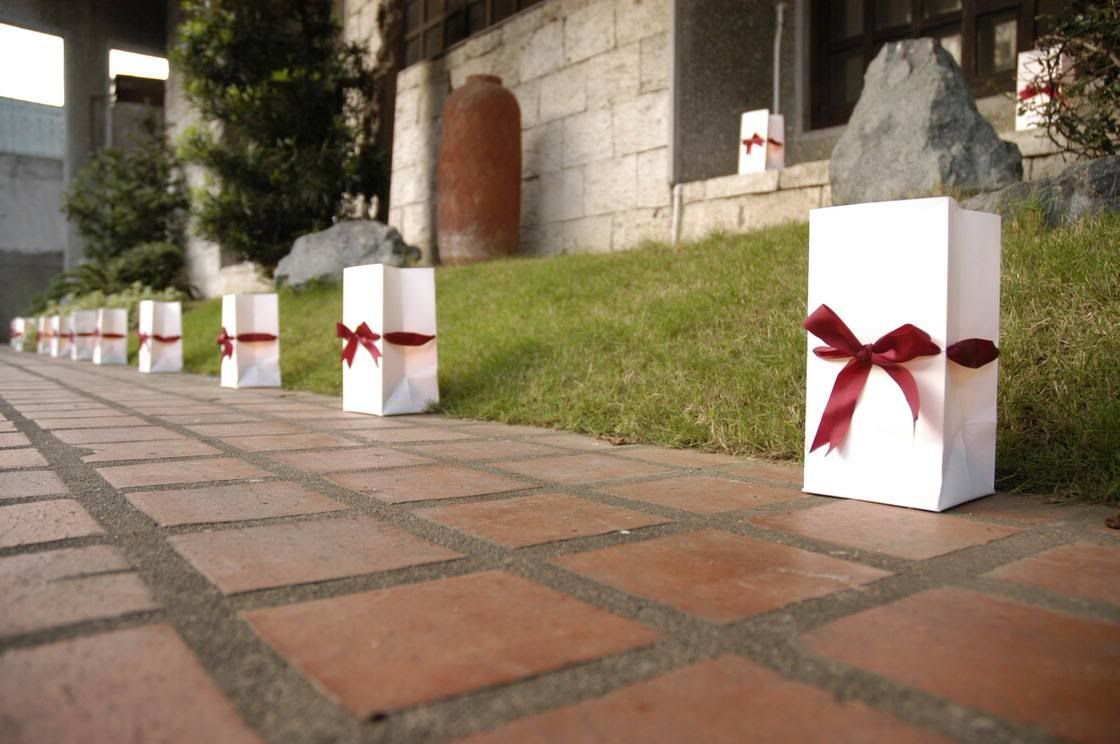 We waited inside the car while all the guests were being ushered into their seats by our
Bridesters
.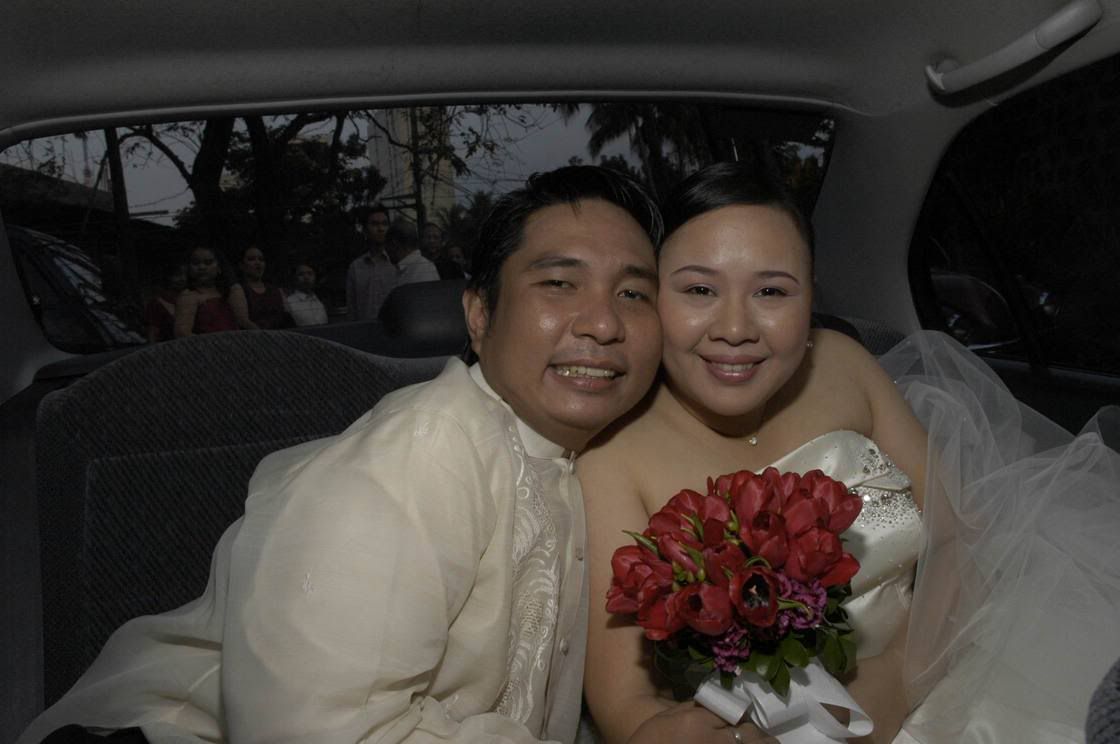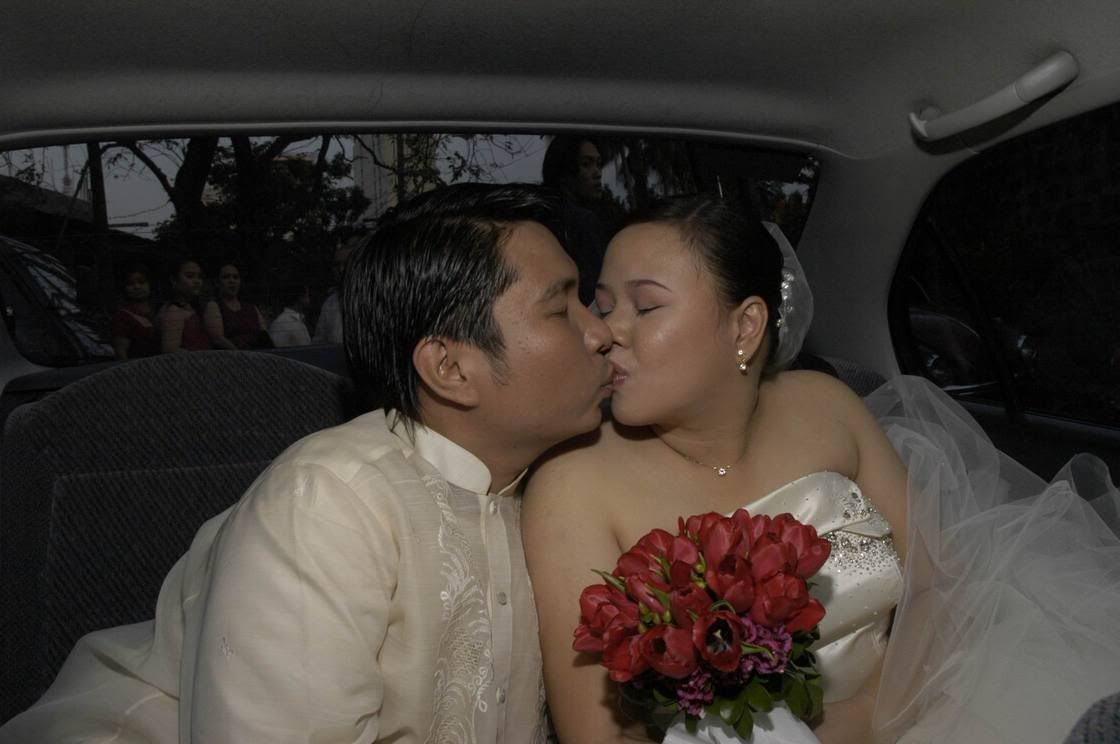 Kuks retouched my make up again (and he stayed all throughout retouching my make up until the reception was over! such good service! ) and we made chit chat while waiting. Then we were ushered outside and got ready for our entrance. When we finally went inside
Batis Asul
, we were soo awestruck at the place!
Balay kandila
has transformed the simple and homey
Batis Asul
into an elegant venue! Our guests were heard saying that they felt like they were at the NBC tent! Balay Kandila hung white cloths in the garden area (sorry but I don't know what you call those things. Promise as soon as I get the pics I'll post them here) and the centerpieces were beautiful! We were greeted with claps and poppers by our guests and entourage. The program started and we proceeded first with our cake cutting and wine ceremony (yum!) then followed by our first dance. Then picture taking per table followed. We had guests per table go up to our stage and have their picture with us before they proceed to the buffet table so we weren't really able to eat as much as we wanted to =( While the guests were having dinner, my younger brother rendered 2 acoustic songs for us. one he composed himself and the other was "You Should Know by Now", Nyoy Volante's version. The third one was supposed to be sung by one of my MOH but then she was having trouble with her voice that day, so my brother just did it instrumental. The song was "Til They Take my Heart Away". So my brother was just strumming his guitar and letting the guests enjoy their dinner, when halfway through the song, Jasper stood up and went for the mic – OMG! Jasper: This is for my lovely wife.. He sang the second stanza of the song and due to nervousness, he forgot the lines! So in my seat, I sang the correct lyrics and he followed. It was soo romantic, me at our gazebo, sitting and singing, looking only at my groom, and Jasper doing same. Towards the end of the song, I joined him and we both sang the last chorus. The guest gave us such an applause! They were even asking for more! (more practice I bet! Mwehehehe!) I still feel goose bumps when I remember that part, because neither of us planned that. Jasper just sort of spontaneously stood up and sang and for me it was soo romantic! I feel giddy while writing this mwehehe! After which our emcee announced that our wedding cake by
Alex Franco
will be served! Yey! After that we proceeded with the garter and bouquet game. I wasn't planning on doing this but I couldn't think of any other activity that could replace this part. For the garter game I prepared balloons, one of the balloons had the garter in it and they sort of passed it around and when the music finished, they held the balloons they were holding and popped it. I must say the guys had fun! For the bouquet, I had
Tropical Blooms
do an all white rose bouquet with ribbons attached to it. Supposed to be, only one of the ribbons was attached to the bouquet but alas! When the single ladies pulled on the ribbon, the bouquet was torn into bits!!! Hahaha! We all had a laugh with this and decided that the one ribbon who had the most flowers wins. The one who won was my younger sister's friend. She was in jeans! (It was a wedding hello!!! hmph! Teenagers!) But I let it pass. Pictures with us followed and then on we went to the next part. Jasper's only brother gave the toast and then my parents and Jasper's parents gave their message to us. I was touched! Specifically because my dad stood up and gave a message albeit short but very inspiring. My dad is a very private person. He despises being the center of attention and going up in front of a lot of people was a no-no for him. When I saw him stand up and take the mic, I was breathless and my eyes moistened with tears. He wished us good health and that we would love each other for the rest of our lives. Sheesh! now I'm beginning to cry! After the message, we proceeded with prosperity dance where we danced and our guests pinned money on us. We had a lot of people joining this part because Jasper's family (Mothers side) were Ilocanos and this was a tradition for them. After the prosperity dance, we proceeded to giving our thank you message and the party was over! =) Looking back, we had a wonderful, memorable and special wedding. Our guests were texting us of how beautiful the wedding was, how touched they were, how they felt our love all throughout the ceremony and reception, how they enjoyed the food and the program, and reading and hearing all these, made our wedding very memorable and worth all the stress we went through. Now we have each other and we are one. We were able to make our dream wedding come true, with the help of our supportive families, online friends from weddingsatwork,
and a roster of wonderful suppliers who have become our friends. If we could do the wedding again (sans the financial part! Hehehe!), we gladly will!

Up Next: Our Suppliers Ratings