Finally! Here's the first installment of our Supplier's Rating. Please bear with me as this is long due to the kuentos. ;-) CENTURY IMPERIAL PALACE SUITES - The Bride's Preparation Venue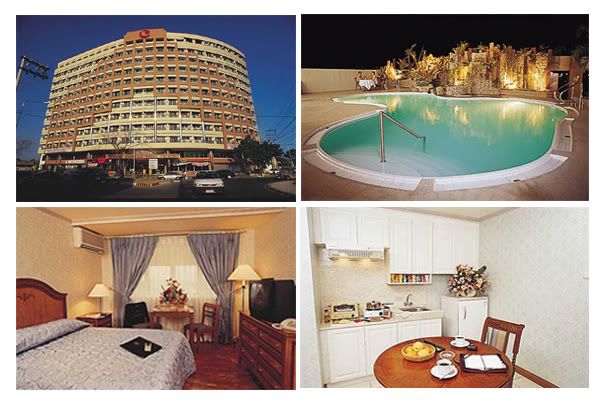 We got a one-bedroom suite for my preparation. The hotel's staff were very accommodating and pleasant with my hundreds of questions and they even granted my request for an early check in. On the day that we were about to check in, I couldn't find the receipt that was issued to us! (We paid in advance) But they accommodated us and just asked for an ID. In about 5 minutes we were already in our suite. The suite isn't that large but for me, it was roomy enough. The room was clean and the room service and housekeeping staff were very prompt with our requests.
Rating : 10 Recommendation: Recommended FARLEY CASTRO -
for the Bride's Gown, Bride's Mom's Gown, and Entourage's Gown We heard about Farley from W@W and immediately called him up and asked for his rates and packages. Several of our friends from W@W also got him for their weddings and we liked his creations. I scheduled our measurement taking August of 2003. Since Farley's shop is in Malabon, I requested if we could do it at Jasper's place in Kamuning. He immediately accommodated my request. Everything went well and I was overwhelmed by the humility and kindness of this person! One of my flower girls couldn't make it to the measurement schedule, so we had to go to Binondo to get her measurements and Farley was kind enough to oblige!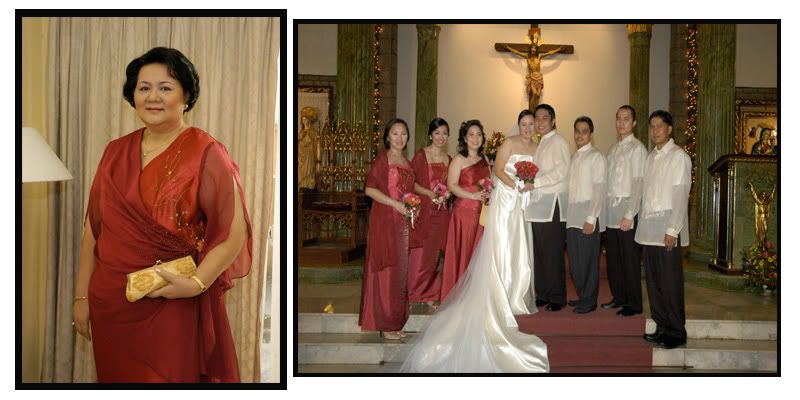 During our first fitting, all the gowns fitted to a T, even for those who only sent their measurements, so that made it our first and last meeting. He was not very particular about payments and would not even ask you for a single cent (apart from the down payment) until you get all the gowns! Remarkable!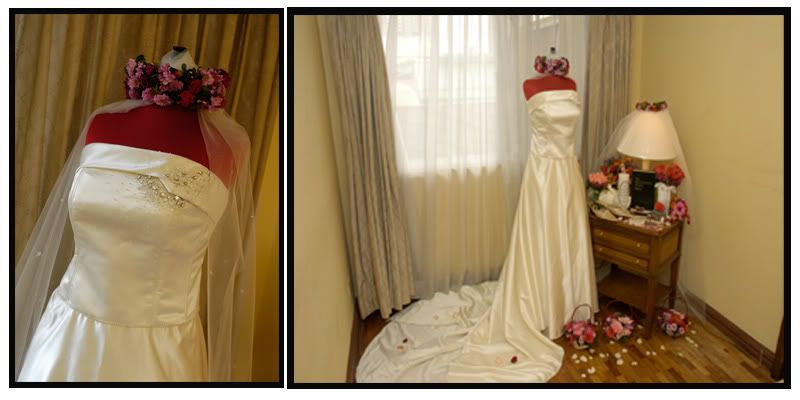 At first, I was actually hesitant to have my gown made by Farley because I haven't seen a sample of a bridal gown that he made. But I took my chances because we were on a very tight budget. I originally wanted a couturier to do my gown, but after hearing her quote of 25k for a simple gown with no beadings whatsoever, she said it was because duchess satin was expensive. Well, I didn't want to shell out that much for a gown I would use only once. I only wanted a simple yet elegant gown. So I decided to book Farley for my gown. He quoted 10k for my gown. I was not disappointed; he even placed a scatter of crystals and beads on the upper portion of my gown and extended the length of my train at no extra cost! The package even included a very long illusion tulle with star beads and crystals and he used duchess satin :-). And he also included a shawl for the entourage gowns, also at no extra cost :-)
A day before the wedding, we were at a loss about where to get a body form for my gown. I called Farley up to ask if he had one available and he did. He even had it delivered to the hotel.
Rating: 10+++++ Recommendations: Highly Recommended! Great Service, beautiful gowns, affordable price! :-)
KUKS REYES - Bride's Hair and Make up. Also for the Bride's Mom, Bride's Sister and 3 entourage members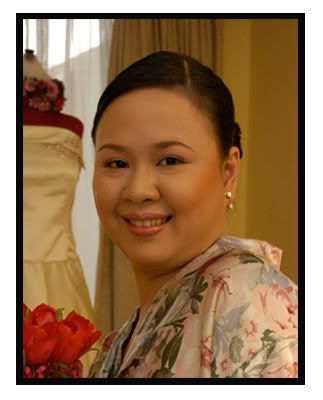 I found out about Kuks thru W@Wie Tina ni Francis. Kuks and I only communicated through SMS and phone calls and I didn't go for a trial. My call time for Kuks and his staff was 11am. I was surprised when he and his staff came knocking at the door at 10am! I didn't expect they'd be that early since I knew they would be coming from Edsa Shang (where Kuks did the make up of
Monet's
entourage.) Anyway, after serving them breakfast, they got to work right away. Kuks did not even use a mirror. I just sort of told him what look I wanted and he did his magic! He did such a fantastic job that my guests said I looked fresh. :-) What's more, Kuks and his staff were very "kwela", they were very instrumental in helping me relax hours before the wedding! They stayed until after the reception, retouching my make up as needed.
Rating: 10+++++ Recommendations: Highly Recommended
TROPICAL BLOOMS - Flowers for the entourage and Bride's bouquet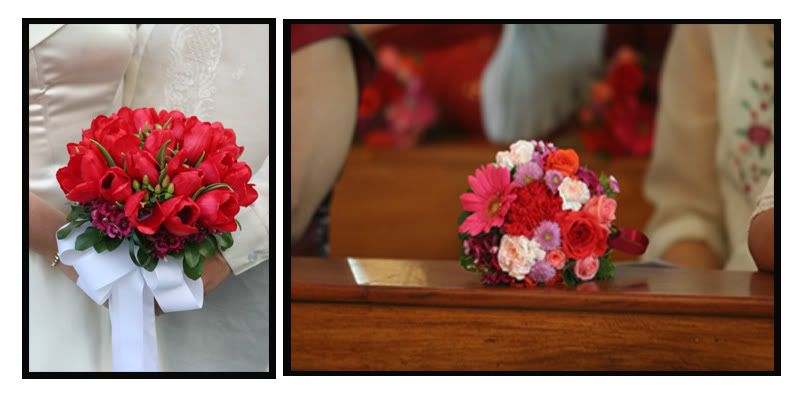 Kuya Angel and Ate Matet of Tropical Blooms is another one of our favorites! As with our other suppliers, meetings with them were fun. They're very easy to talk to. The flowers were fresh and beautiful. The arrangements exquisite! I love my bouquet of red tulips! It lasted for like a week after the wedding before it dried up. The flowers also arrived early during the wedding day! Rating: 10+++++ Recommendations: Highly Recommended
UNITY COINS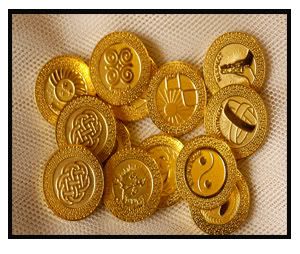 Our unity coins were a gift from what we consider "very dear friends" - John and Benette Rana of www.weddingsatwork.com! The Unity Coins were very beautiful and served as a unique arrhae for our wedding. We will forever treasure these coins as a reminder of our bond, second to our wedding rings. :-) Thank you so much John and Benz! Rating: Since the Unity Coins were gifts, I prefer not to rate them but we do highly recommend that you get one for your wedding or a gift to someone who is getting married! :-)
WEDDING RINGS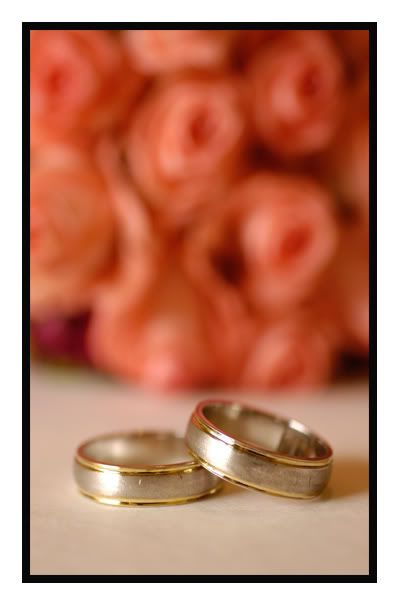 Our wedding rings were also gifts from my dear best friend in college - Marifa, who is also one of our entourage. She had it made by their jeweler in Tarlac. They're made out of 18k white gold, matte finish, with a touch of gold. She just asked for a picture and their jeweler did an awesome job. Rating: No rating since this is also a gift but a lot of people tell us how wonderful our wedding rings are... and we agree! ;-)
HER-Mans Tailoring - Groom's Barong
We found HER-Mans near the Kamuning Market. They did a great job with Jasper's barong, but the owner, Mang Herman (so that's where the business name came from! hehehe) gave me this feeling that he didn't like doing his job. When we went there and showed him the picture of Jasper's barong, he often clucked and kept telling us that it was hard to do. Well, I would've went out of his shop that instant but Jasper didn't want to go tailor-searching anymore. Thankfully, Mang Herman did a good job naman.
Rating: 8 (minus 2 for his negativity) Recommendations: slightly recommended
KAMUNING MARKET - Male Entourage's Barong
If you find Divisoria far, then Kamuning Market is the next best place for affordable telas. :-)
Rating: 10 Recommendations: Recommended
WEDDING LIBRARY - Unity Candle, Poppers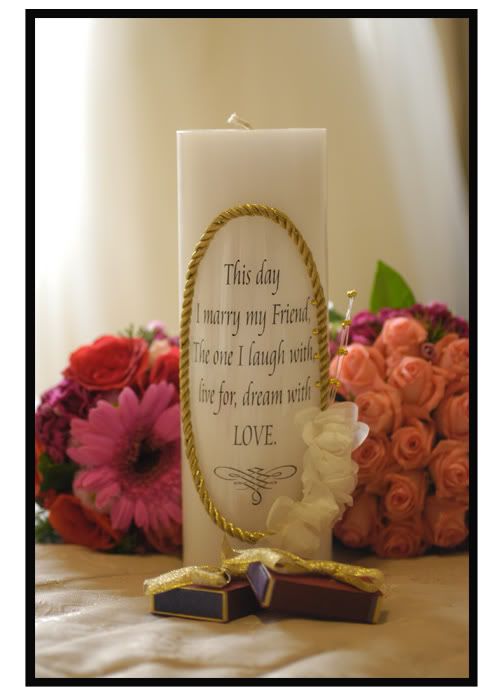 Since we didn't have enough time to scout Divisoria for our poppers and not enough budget for a Unity Candle by Balay Kandila, we trooped to Wedding Library for these. Our Unity Candle was simple but good enough (and affordable) and the poppers were great!
Rating: 10 Recommendations: Recommended if you don't have time (and patience) to squeeze in a Divisoria trip.
;-)
INVITATIONS - Jasper and Nyree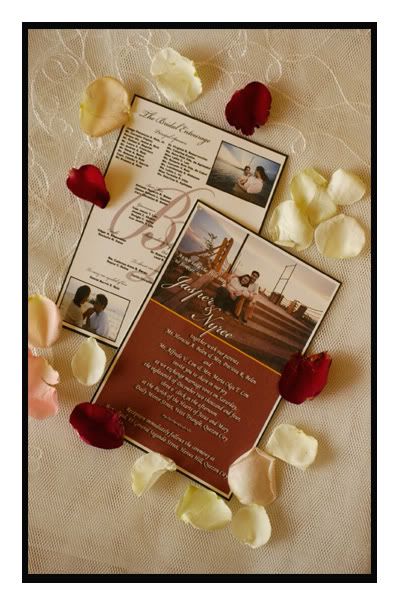 Wanting to learn how to use Adobe Photoshop, I experimented on doing our invitations. Jasper loved how my design turned out and we agreed to use it. We then bought cartolina-sized papers from Star Paper. Jasper and his dad were the ones who did the cutting of the paper to 8 x 11 sizes. After which, I printed our invites using their ink jet printer. Then we had our invites matte laminated at Well Coat. A little side kuento, since we had the same wedding date,
Clarice
, a W@Wie, emailed me one day and told me about her wonderful idea. She suggested that we (along with other December 2004 W@Wies) have our invitations matte laminated all at the same time so that we would be charged one price and we could share the costs! Her idea turned out well as all of us were able to save a big chunk of our wedding budget! Thanks
Clarice
! :-) Our invitation envelopes were DIY's as well. Taking inspiration from W@Wie Raquel ni Carlo (who also did her invite envelopes).
Rating: 10+++++ of course because these were DIY projects by me and hubby :-) Recommendations: We recommend that if you have a considerable length of time to prepare for your wedding, you might as well do your invitations yourselves. A great way to bond with your hubby-to-be, your invites will mean more to the both of you since they're "a labor of love". It's also a great way to save! ;-)