Last week was the most overwhelming week ever! I won't bore you with the details as you might get bored with all the workforce lingo but to make the long story short, I spent more than 12 hours everyday in the office the whole week. I tell you, making schedules for 400 plus agents is no easy task! ;-) But inspite of the lack of sleep, I enjoyed scheduling and given the "issue" here at home, working late didn't bother me at all. ;-)
The one thing I did miss was scrapping! So, yesterday, with eyes drooping, I finished yet another LO. Plus, I got into 2 Creative Teams! Karen Lewis and Stephanie Ogren! Yey! Check out my Blinkie for Creations by Karen: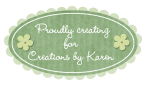 Let me share with you the layouts I finished last week! We brought my Godchild, Emman to Manila Zoo for his birthday. I promise to tell you all bout it next time.
For now, here are the layouts. Leave me some love okay? :)